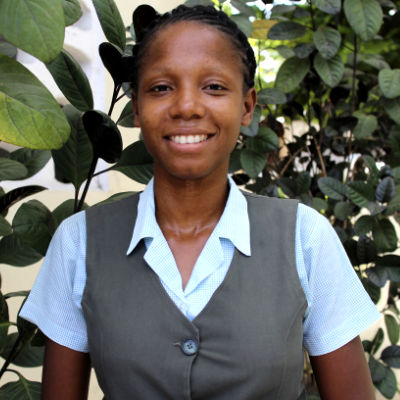 Sponsorship Levels
Primary School: $100/year
The official primary school cycle requires children to spend 6 years in school before becoming eligible for the state exam granting them a certificate of primary education (CEP).
Secondary School: $290/year
The official secondary education cycle requires students to spend 7 years in secondary school before sitting for the national exams in two consecutive years. Successful students receive a baccalaureate.
Meet Stania
Stania is the first person in her family to reach university level education. Thanks to our scholarship program she was able to attend and graduate nursing school. With her education she has been able to lift her family out of poverty.
In addition to Stania, we are currently sponsoring two seminary students, two nursing students and a student in Education. One of our students who benefited from the scholarship program is currently a principal at one of our schools.
You can help young Haitians just like Stania by donating just $100. For two weeks of gas money you can send an impoverished child to school for an entire year.
How Students are chosen
A selected committee determines a student's eligibility according to merit and need. Every child has an equal chance of benefitting from all programs established under Souvenir Children Foundation's education development. Once a student enters a program, the committee is charged with regular monitoring and reporting to the sponsors and to the parents.
Monitoring Progress
The same committee in charge of selecting students will provide ongoing monitoring and share every detail of students' progress with the organization. That way you will have a point of contact from which to inquire about progress notes, pictures, and other benchmark data about the student.