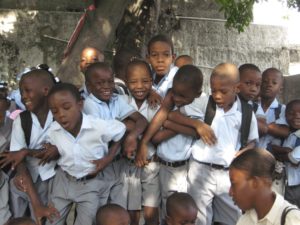 A Summer of Fun and Learning
Each summer thousands of Haitian parents gather their goods and go to market to be able to afford food. In the meantime, their Children, sometimes as young as 5 years old, are left alone to fend for themselves in the city. Our Summer Camp is a safe, fun, and educational environment for these children to grow.
Arts Crafts and More
Each year hundreds of young children attend our summer camp. We provide them not only with a safe haven but also with useful skills that they can use in the future to support their families. For example, last summer camp we taught our students how to knit. They are now knitting basics, clothes, and cases that their parents can bring to market.
In addition to activities, every day we provide the children with warm meals. Donations to our charity go towards feeding the children as well as supplies for activities such as knitting.